When I saw the rating the Secret Life of Walter Mitty received, I was a bit shocked. Ben Stiller has always been consistent with his movies. However he hasn't done a lot of non-comedic films and I am always reminded how much this one feels like Will Ferrel's "Stranger than Fiction." I do agree though that this story, The Secret Life of Walter Mitty, was tough to adapt to the screen. How can you possibly stay true to the story when its barely a page or two long? Besides that, the story lacked any sort of point or resolution that I could see. It would make sense to adapt it into a more relateable piece that expressed a message and I loved the message of this film. As some one that constantly day dreams and has wild fantasies, this movie tells you to get out there and live.
Initial Thoughts:
Day Dreaming of Her...Watch Your Back.
I thought that Stiller did a good job on recreating the essence of what The Secret Life of Walter Mitty was about. This is a story about a man who day dreams too much to get away from his current life. Something we all can relate to when we don't want to be working in our dead end jobs or be with our bitchy spouses with a house full of screaming kids.
Surprisingly, there was no one to fight against Mitty's dreams, unlike the written version where he had a wife that nagged him at every turn. It seemed the world around him is used to his zoning out and accepts that is the way he is. What I really appreciated about the film is it felt like you were looking through a magazine. I was impressed by being pushed to see the words written on the walls, on the streets, on signs, and bus stops. It caused me to pay attention more and appreciate the beautiful long shots that featured some of the most stunning scenes I have seen in a movie. *Sigh* Its so dreamy.
Interesting characters:
The story definitely didn't lack a swathe of interesting characters. There are so many to mention: the drunk helicopter pilot that got dumped, the fisherman crew that was hustling to the one bike on the entire island to get to the nudie bar, the afghans that liked clementine cake. Well lets see...who else?
You have the work bully, Ted, who is the new manager that has came in to shut down the publishing division of Time Magazine so they can put up the web division instead. He pretty much looks and sounds like a douche and haunts Walter for negative photo 25...the "Quintessence of Life" and Sean's best photo yet. Too bad Walt can't find it.
You jerk...you made Mitty come all that way for nothing
You have the mystery man, Mr. Sean O'Connell, the brilliant photographer he has worked with for years, but had never met in person. Yes, Sean is a man's man. The guy that Walt and every man wants to be. He has ventured into dangerous territory to get some of the best photos Life has produced over the years. He only trusts Walt with his work and seemed to have an appreciative nature toward Mr. Mitty.
You have the family support, a sister that tries to push/claw/bribe Mitty out of his shell and a mother who is full of life lessons and strength for Walter when he is down. They seem like a great family and Walt shows how dedicated he is in taking care of them.
You have the instigator, Todd from Eharmony who roots for Mitty, pushing him to finish his profile so he can attract his love interest in winking at him. [by the way, Eharmony sucks, just saying] Ha. Todd. What a trip. He was a great distraction at times during the long points of the movie when Walt was traveling.
Also last, but not least, the love interest, Cheryl. The mysterious, perfectly normal starting intern with a son. Cheryl is a fairly one dimensional character and seems to remain flat throughout the movie. Its odd, but she is so normal it bothers me. However it doesn't take away from my enjoyment.
Colors and Details: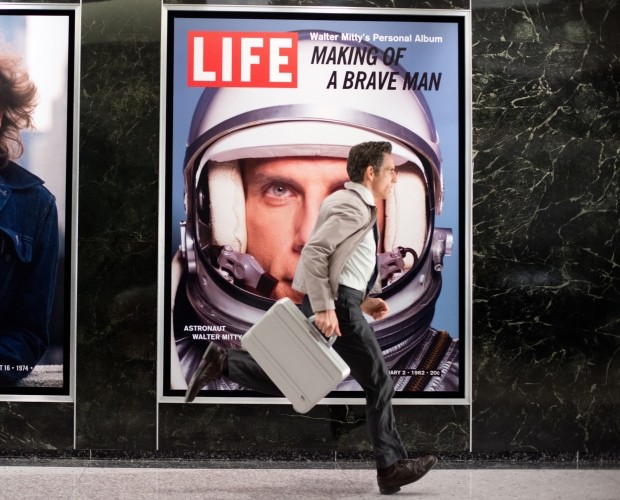 Ballin Detail. Run Mitty, Run! DESTINY AWAITS!
Like I mentioned before, the words that blended into the shots were a work of art in itself. There were so many messages that you don't always catch. Just like in this still shot of Walter running past all of the iconic photographs of Life magazine. See the top right hand and bottom left corner? It states: Walter Mitty's Personal Album - Making of a Brave Man / Astronaut Walter Mitty. That indicates "explorer" mode doesn't it? Going into unknown territory and becoming that man he wants to be. How cool is that?
All of this caused me to pay attention to how beautifully artistic this movie was. Its highly recommended to see this film in IMAX considering all the stunning visuals. I also felt that there were a lot of great color choices used for this film. The way Walter dressed was almost like a black and white television screen. No life..very plain, meek. Even his work place seemed so plain. Then when he went on his adventure he chose reds, the colors of the world were vibrant just like his fantasies. There were also a lot of dreamy blues, lively greens and other wonderful details that drove my senses wild. It really impressed me as an artist that he took this story and made it so visual [like the world he worked in] it became a feast for the eyes.
Story:
This would be faster if he just said he liked her...THE END
The story itself wasn't bad per say, but I felt like it could have said more. It seemed like the story was rather safe and didn't present anything deeper which is where I felt it missed the mark on being "ever lasting." What I do love though was the quirky, nonverbal humor. That part of acting where you can laugh even when nothing has been said. The acting from Stiller was excellent and I could feel the power of each action he took as a significant step in his recovery to return to living life. Although I was a little pissed at the real answer to where the missing negative 25 photo was. If I was Walter, I would have choked the man on that mountain. His answer felt like a horrible waste of time going through this entire journey where you practically felt like the dude was leaving clues. Which he wasn't. He was just a dumb photographer that wanted to be cute about it.
But that was not the real mystery, was it? The desire to find out WHAT was that amazing photo he took remains a secret all the way til the end. And I called it as soon as I heard him rant how great it was, but refused to tell him. I will let you all figure out what was negative 25 for your own viewing pleasure. But it was the best treat of all and I couldn't imagine a better ending to the story.
And now time for what Walter Mitty SHOULDN'T have dreamt about:
1.
The Benjamin Button Fantasy
- I know that is everyone's favorite part, but my God, the horrors of a man baby curling up next to his full grown wife is creepy. A horrible, horrible fantasy.

Stretch Dragon Ball Z on 22nd and 9th St.
2.
The Stretch Armstrong Fight
- Hilarious at first, it tends to run its course a bit longer than it should and turn into practically a ninja, street surfing fight scene where stretch gives the "oh crap" face and comes to life.
3.
Walter's past [not a dream...]
- I liked peeking into his past...but that mohawk was just unbelievably out of character. I am just questioning, how can a man change so much?
4.
Cell Phone Reception
[this has to be a dream because I can't get good reception in California, much less these places] - I don't know what plan Walter is on, but it has some ridiculously fabulous reception on those snowy mountain peaks. And why didn't he use that on the boat if he had a phone that entire time? Christ Mitty. Get it together.
Please tell me how this shit was possible...
5.
Crossing into Afghanistan from Yemen
[totally not a dream] - I think most people don't know their geography, but YEMEN ISN'T EVEN CLOSE TO AFGHANISTAN. He never mentions how he gets to Afghanistan because he has to cross more than one country just to find Sean O'Connell some where in the mountains. This is not a short hike at all.
There could have had multiple outcomes that would have ended with Walter being dead in almost every scenario.
So to wrap this up, I really do believe this movie should get more credit than it got. The Secret Life of Walter Mitty is a gem that is bright and interesting in its own way. A sweet story about a man who never lived his life up until he was force to become the hero he always wanted to be. The graphics are beautiful, the music is inspiring, and you will find yourself rooting for Mitty all the way through.
Open Your World. Live Life!
What did you think of the Secret Life of Walter Mitty? Tell me in the comments below!
And if you want to hear more crazy rants and reviews, don't forget to subscribe!
DnD's Rating: 8/1O
Anything After the Credits?
Nope, however there are some great things going on during the credits that you might want to stick around for.